If you are experiencing slow or no Internet, here are 6 easy troubleshooting steps to take to get you back online.
1. Check Another Device or Website
Start with the obvious: is the problem only happening on one device or on all your devices? If your computer's having problems, see if your tablet or someone else's laptop can connect to the internet. If the problem only happens on one device, you can safely narrow the problem down to that particular machine.
If a specific website won't load, try another site. If you can visit other websites just fine, it's likely that the problem is with the website you're trying to visit, and you'll have to wait for them to fix things on their end. If there is no known outage, it could be an issue with your browser's cache. You may want to try visiting the site in a private browsing window or from a different browser to see if that fixes the connection problem. And clear your browser's cache and cookies.
2. Check your Wi-Fi Settings
Check the Wi-Fi signal icon in the bottom-right corner of Windows and the top-right corner in macOS. Click the icon and make sure you are connected to the proper SSID using the correct password. If not, you may be connecting to the wrong network by default. Windows users can change the connection priority or right-click a network and select Forget. On a Mac, open System Preferences > Network > Advanced and uncheck any unwanted networks under the Auto-Join column.
3. Check Your Lights
If you can't connect to the internet at all, take a look at your modem and router. Both should have a few LED status indicators—if none of them are lit up, then the modem or router is probably unplugged or powered down. Disconnect the power cord—if you have both a modem and a router, disconnect both—then reconnect the modem after a minute or two.
Make sure that the power switch is in the On position if there is one. Once its lights are on, plug in your router (if applicable) and wait for it to boot up as well. If you still don't see lights after plugging them in, you may have a failed power adapter, a faulty power strip, or a fried router.
If some of the lights are on, but some aren't—or they're flashing repeatedly—you'll want to look more closely at what they're telling you. For example, if your modem's lights are flashing rather than solid, it may be unable to find an internet connection, necessitating a new modem (or a call to your ISP).
If your router's network light is on but the Wi-Fi lights aren't, you may need to press the Wi-Fi button on the side or re-enable Wi-Fi from its configuration menu. Check the documentation for your modem and/or router to diagnose what these lights are telling you.
4. Who Else Is Using the Internet?
It's possible that everything is working properly, but a program on your PC—or someone else in the house—is using up all your bandwidth. On Windows, open up the Task Manager by pressing Ctrl + Shift + Esc and click on the Network column to sort by network usage. On a Mac, press Command + Space to open Spotlight, type "Activity Monitor," and head to Activity Monitor's Network tab.
If a certain app is using a lot of bandwidth—like if you're downloading a big file—you may just need to wait until that process is finished, or cancel it to get your internet snappy again. If you don't see any obvious culprits, see if someone else in the house is downloading a large file on their machine, and tell them to knock it off. If someone is using a game streaming service, don't let them hog all the bandwidth on the network.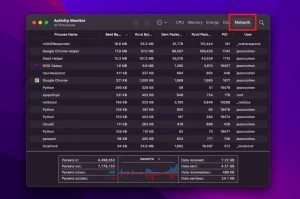 5. How is Your Wifi Signal?
If you're using Wi-Fi, there are plenty of problems that can slow down your connection. Try connecting your computer directly to the router with an Ethernet cable. If that solves the problem, then your Wi-Fi signal is poor enough to degrade your internet speed. Check the Wi-Fi icon on your computer: how many bars do you have?
If you're low on bars, you may need to move your router to a more central location in your house, or buy a Wi-Fi extender.
6. Call Us
If you have tried steps 1-5 and you still do not have Internet, give us a call 1-866-930-3846.